Annual Report 2022 of KHCP

Download as PDF in more languages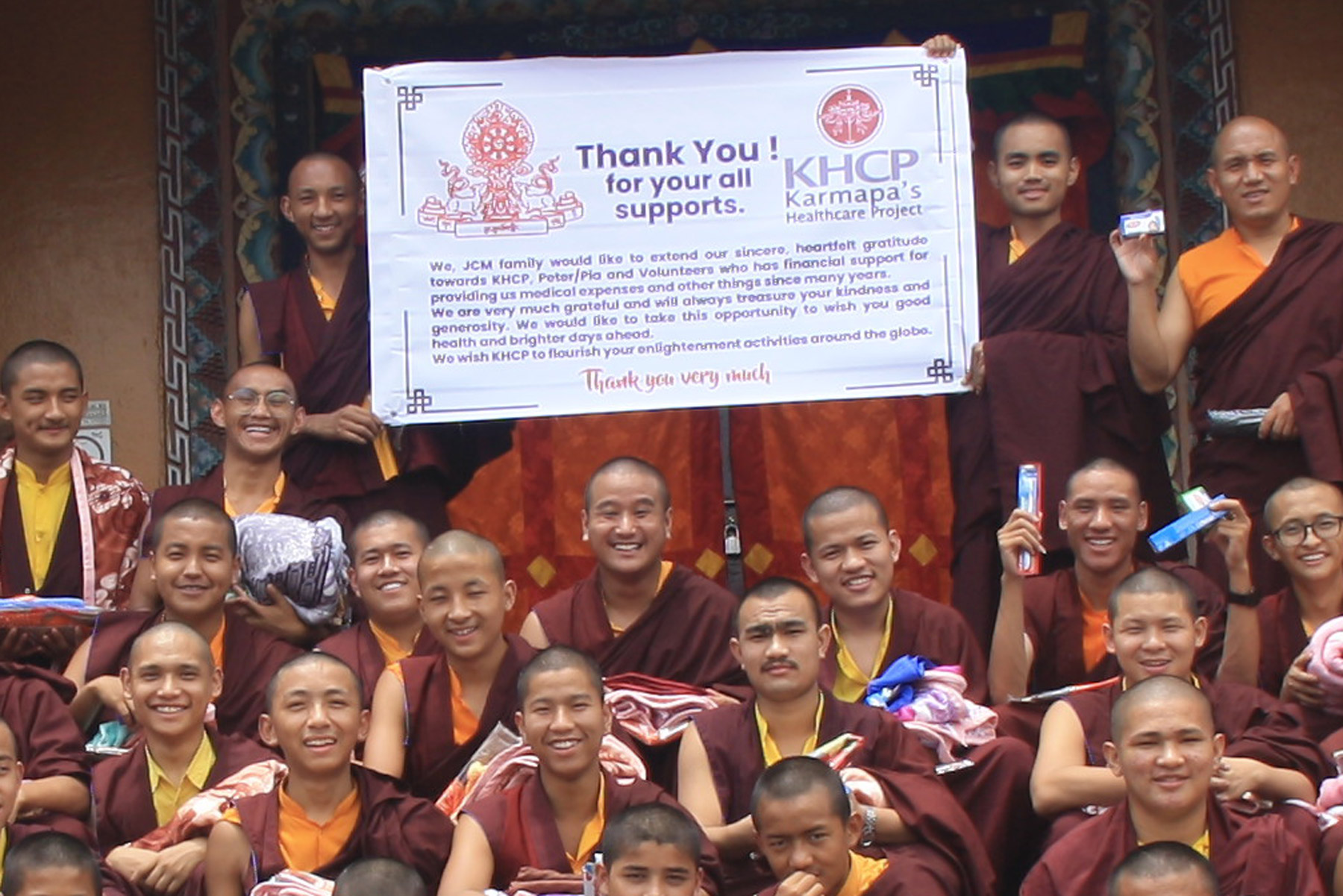 Febr 18, 2023
Dear KHCP friends worldwide
Still in 2022 COVID-19-travel- and contact restrictions made some of our usual campaigns impossible.
Nevertheless we all do our very best, as well the KHCP try to keep the activities alive. Despite we could raised a total of about 86.585 €uro (before final proof) and – like in all the previous years – these funds will be or already are swiftly allocated to their purpose. We hereby thank our supporters from our very hearts.
Due to COVID-19 we have modified our campaigns and processes. Along the inflows in our monasteries and institutions we have tried to support actively the COVID-affected and poor or old people around the monasteries.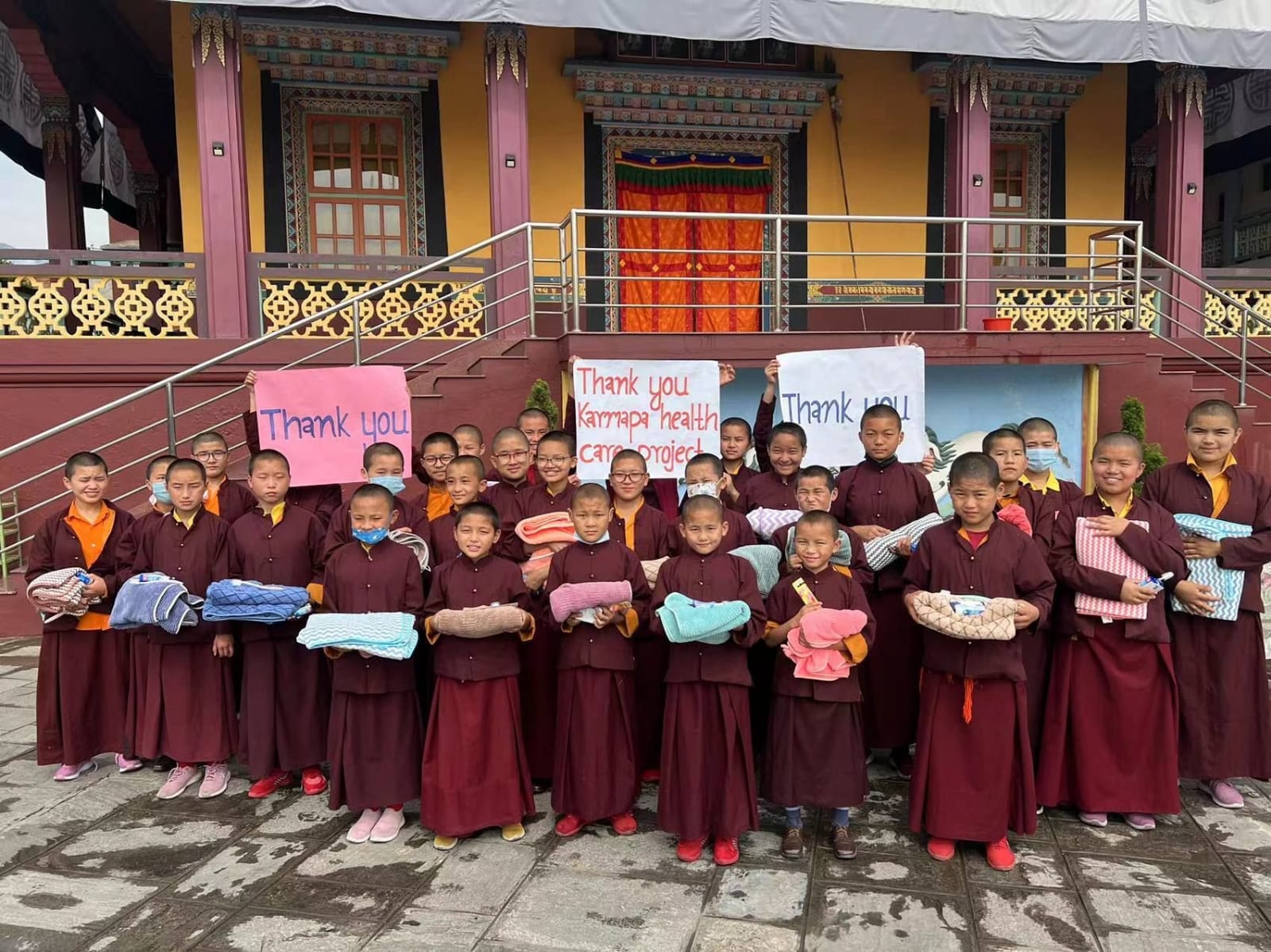 With different reliefs in diverse remote villages like Luthan, Muktinath, Chorha and Chhattisgarh we could serve food, masks, desinfection, hygiene items, blankets etc. stuff. 
Monks and nuns of the Kagyu monasteries at place organized and realized it all and we are happy and hereby thank them for their great engagements.
Furthermore the KHCP fund the coperations with the Khyenkong Tharjay Manjughosha Association.
 A special thank to Dr. Regis Proust / K.T.M. Association for his hard-working and tireless campaigns and cooperation with KHCP in Bodhgaya.
The annual Kagyu Monlam Bodhgaya in December had been canceled again (COVID) and therefore the KHCP-medical camp there too.
Instead the 15.th KHCP-Monlam-Medical-Camp 2022 had been successful again in Rumtek/Sikkim. So this year the Kagyu community of Karmae Sangha Rumtek (Shamarpa´s school) hired professional doctor and nurses to provide free medical checkups and healthcare for participants in the Monlam as well as the local population. So we are very happy to get fulfilled the continuity of the Monlam medical camp history of KHCP - Karmapa´s Healthcare Project for the 15th time.
The mayor KHCP campaigns done in 2022:
15th KHCP Medical Camp at Kagyu Mönlam in Rumtek/Sikkim
KHCP-KJKW-Medicalcamp in Luthan Bigha/IndiaJoint medical camp of KHCP and K.J.K.W. Public Charitable Trust
KHCP-Medicalcamp in Chorha/India Joint medical camp of KHCP and K.J.K.W. Public Charitable Trust
Support at Tharpa Choeling Nunnery of Shangpa Rinpoche in Muktinath/Lower Mustang/Nepal
KHCP-Medicalcamp at Mainpat Temple in Chhattisgarh/India Oct.10, 2022: Joint medical camp of KHCP and K.J.K.W. Public CharitableTrust
KHCP-Medicalcamp at Dhargye Chokhor Ling Monastery in Bodhgaya/India
KHCP-Support at Jangchub Choeling Monastery (JCM) Pokhara/Nepal Jangchub Choeling Monastery (JCM) and Vikramashila Buddhist Institute (VSBI)
Here further supports and annual health-budgets of KHCP in 2022:
Sharminub in Raniban / Kathmandu via Infinite Compassion Deutschland e.V
Hasantar Nunnery of Sherab Gyaltsen Rinpoche in Kathmandu /Nepal
Pediastrician Project of Sherab Gyaltsen Rinpoche in Kathmandu/Nepal
Monastery/School of Sherab Gyaltsen Rinpoche in Nala /Nepal
JCM Jangchub Choeling Monastery in Pokhara / Nepal (Dupsing Rinpoche)
Nunnery Muktinath / Mustang / Nepal (Dupsing Rinpoche)
Monastery/School of Nedo Rinpoche in Rumtek/Sikkim/India
Karmae Sanghe in Rumtek/Sikkim/India (Shamar Rinpoche)
Monlam Medical Camp in Rumtek/Sikkim/India
Karma Chokhor Dechen Ling Nunnery in Rumtek/Sikkim/India ( H.H.Gyalwa Karmapa)
KIBI Institut in New Delhi / India Health-Budget for KIBI monks / via KIBS Germany e.V.
Cooperation with Association Khyenkong Tharjay Manju in Bodhgaya (Beru Khyentse Rinpoche)
Fund for diverse medical campaigns of our cooperation around Bodhgaya / India
Health-Budget for Bodhgaya clinic room at Karma Tempel of Beru Kyentse Rinpoche
Ka-Ten Namgyal Ling Monastery Rumtek/Sikkim/India
Monastery Swayambhu in Kathmandu/Nepal (Shamar Rinpoche)
B.I.A. Foundation Disabled (Chogyal Rinpoche) - Disabled Project near Boudhanath/Kathmandu
B.I.A. Foundation Serchang Orphanage (Chogyal Rinpoche) in Swayambhu/Kathmandu
KDC Karma Dupgyud Choeling Monastery, Leh/Ladakh/India (Chime Tulku Rinpoche)
Since this year we launched a new Instagram channel where we will continiously offer images of the last 17 years of KHCP (mix of healthcare and Kagyu pics - often we did medical camps during empowerments/teachings etc.).
Enjoy and FOLLOW www.instagram.com/khcp_official
Throughout the year, we provide you with detailed reports on our work here on our website or connect with www.facebook.com/karmapahealthcareproject
For 2023, we need again a minimum of 100,000 Euros to be able to provide the most basic of medical treatments.
Please be so kind and look if you are able to establish a standing donation order – it will benefit plenty friends in the Himalayas.
Our deepest appreciation and heartfelt thanks to every supporter!
Yours, Pia and Peter, the KHCP team and the board of directors of Karmapa's Healthcare Project e.V.
!Attention NEW!
Donation Account
Account Holder: KHCP e.V.
Bank für Sozialwirtschaft AG
IBAN: DE34 3702 0500 0020 1467 11
Account No. 20146711 | BIC: BFSWDE33XXX

Or donate one-time or monthly directly here
Online via PayPal