Collaboration of KHCP and Khyenkong Tharjay Manjughosha Association

During the Karmapa Course 2019 at Dhagpo Kagyu Ling France Following a work meeting with Dr. Regis Proust and the directors of Association de Medical Aid Inde now named Khyenkong Tharjay Manjughosha (KTM) as well as Peter and Pia founders of the KHCP-Karmapa Healthcare Project happened.
Dr Regis Proust told that Beru Kyentse Rinpoche advised him to get in contact with Pia and Peter (KHCP).
The story behind comes from the year 2010. That time Pia and Peter had a talk with Shamar Rinpoche and Beru Kyentse Rinpoche in Bodhgaya. Both sides decided to build-up a clinic room on the ground of Rinpoche´s monastery called Karma Temple. Rinpoche offers a place behind the monastery and Pia and Peter offers the aim to look for donors and/or friends to realize it.
So we are now happy that our french friends took over this vision and found the Khyenkong Tharjay Manjughosha Association to setup this clinic project.
Khyenkong Tharjay Manjughosha (KTM) develops a clinic in the premises of the Karma Temple at Bodhgaya under the guidance of H.E. Beru Khyentse Rinpoche.
For this purpose, a 2-storey building was built at the back of the Karma Temple on the land belonging to the monastery. Its inauguration was scheduled for November 19, 2019 and the first medical teams are scheduled to succeed from November 2019 to February 2020.
Here in Dhagpo Kagyu Ling KHCP and KTM decided to develop joint actions.
Since 2008 the KHCP manage the grand Monlam medical camp in Bodhgaya every year. With this experiences the KHCP offers Dr Regis Proust to include the new clinic room into this medical camp and its team management.
In October 2019 we transfered a startup sum of 2000€ to Khyenkong Tharjay Manjughosha for buying the first equipments and medicaments.
During the KHCP-Monlam medical camp in Dec. 2019 the clinic room was used for the treatments of the participients of the Monlam.
In March 2020 the KHCP again transfered a further sum of 2500€ for managing the present medical campaigns of KTM around Bodhgaya.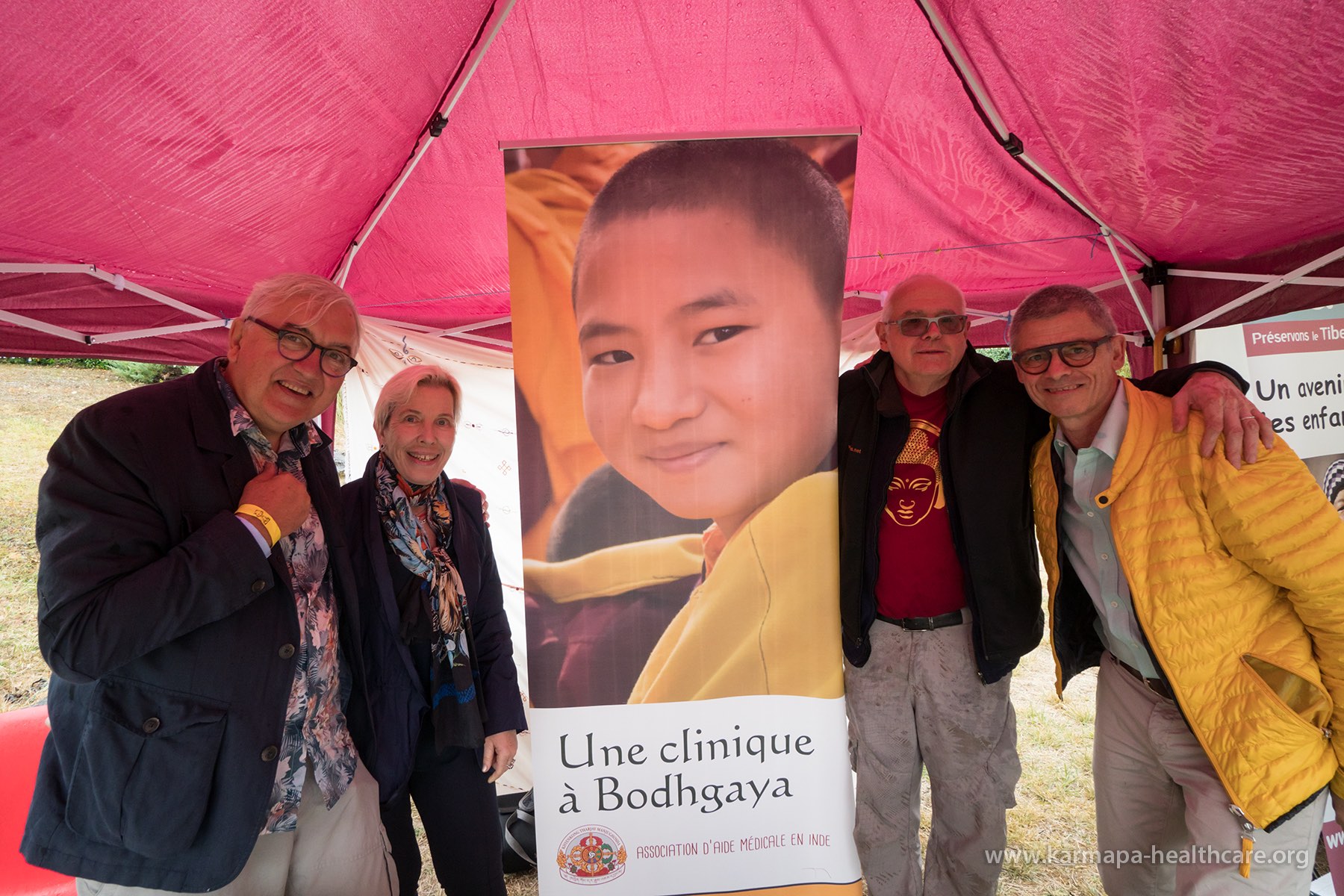 Meeting in Dhagpo Kagyu Ling France