Annual Report 2021 of KHCP

Download as PDF in more languages
Dear KHCP friends worldwide
April 21, 2022
Also in 2021 COVID-19-travel- and contact restrictions made some of our usual campaigns impossible. Nevertheless we all do our very best, as well the KHCP try to keep the activities alive. Despite we could raised a total of about 118.650 €uro € and – like in all the previous years – these funds will be or already are swiftly allocated to their purpose. We hereby thank our supporters from our very hearts.
Due to COVID-19 we have modified our campaigns and processes. Along the inflows in our monasteries and institutions we have tried to support actively the COVID-affected and poor or old people around the monasteries.
With different reliefs in Kathmandu, Pokhara, Kalimpong, Rumtek, Sharminub and diverse remote villages we could serve food, masks and desinfection stuff.
Monks and nuns of the Kagyu monasteries at place organized and realized it all and we are happy and hereby thank them for their great angagements.
Furthermore the KHCP fund the coperations with the Khyenkong Tharjay Manjughosha Association, Street Dog Care e.V. and the White Grain Foundation.
A special thank to Dr. Regis Proust / K.T.M. Association, Andrea Brinkmann / Street Dog Care e.V. and Magda Jung / White Grain Foundation for their hard-working and tireless campaigns and cooperation with KHCP in Kathmandu.
The annual Kagyu Monlam in December had been canceled again (COVID) and therefore the KHCP-medical camp there too.
Instead the 14.th KHCP-Monlam-Medical-Camp 2021 had been successful again in Rumtek/Sikkim. So this year the Kagyu community of Karmae Sangha Rumtek (Shamarpa´s school) hired professional doctor and nurses to provide free medical checkups and healthcare for participants in the Monlam as well as the local population. So we are very happy to get fulfilled the continuity of the Monlam medical camp history of KHCP - Karmapa´s Healthcare Project for the 14th time.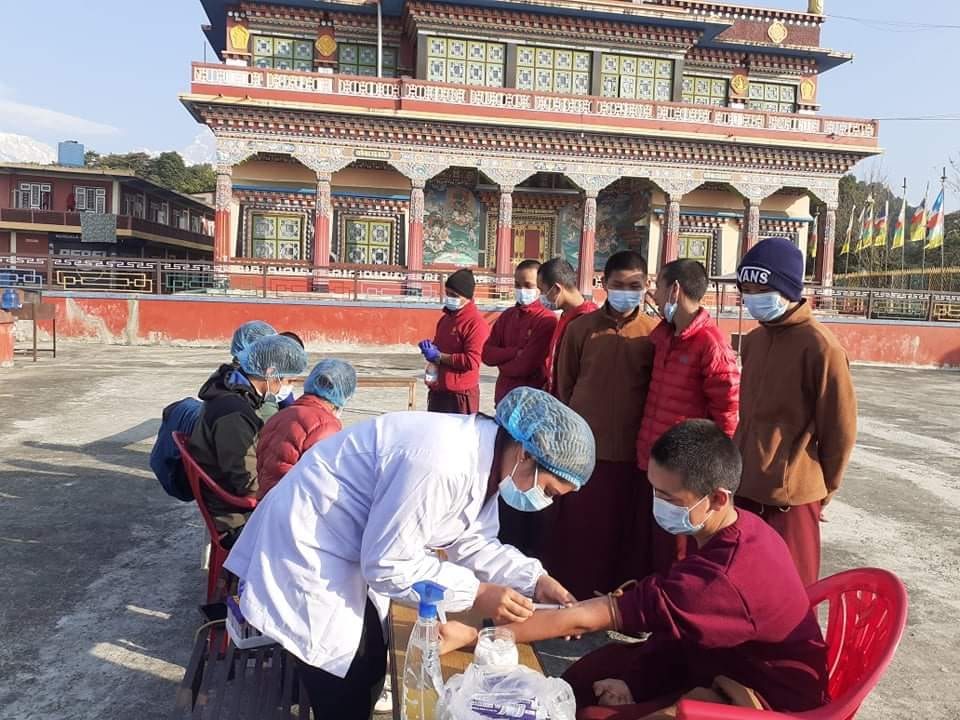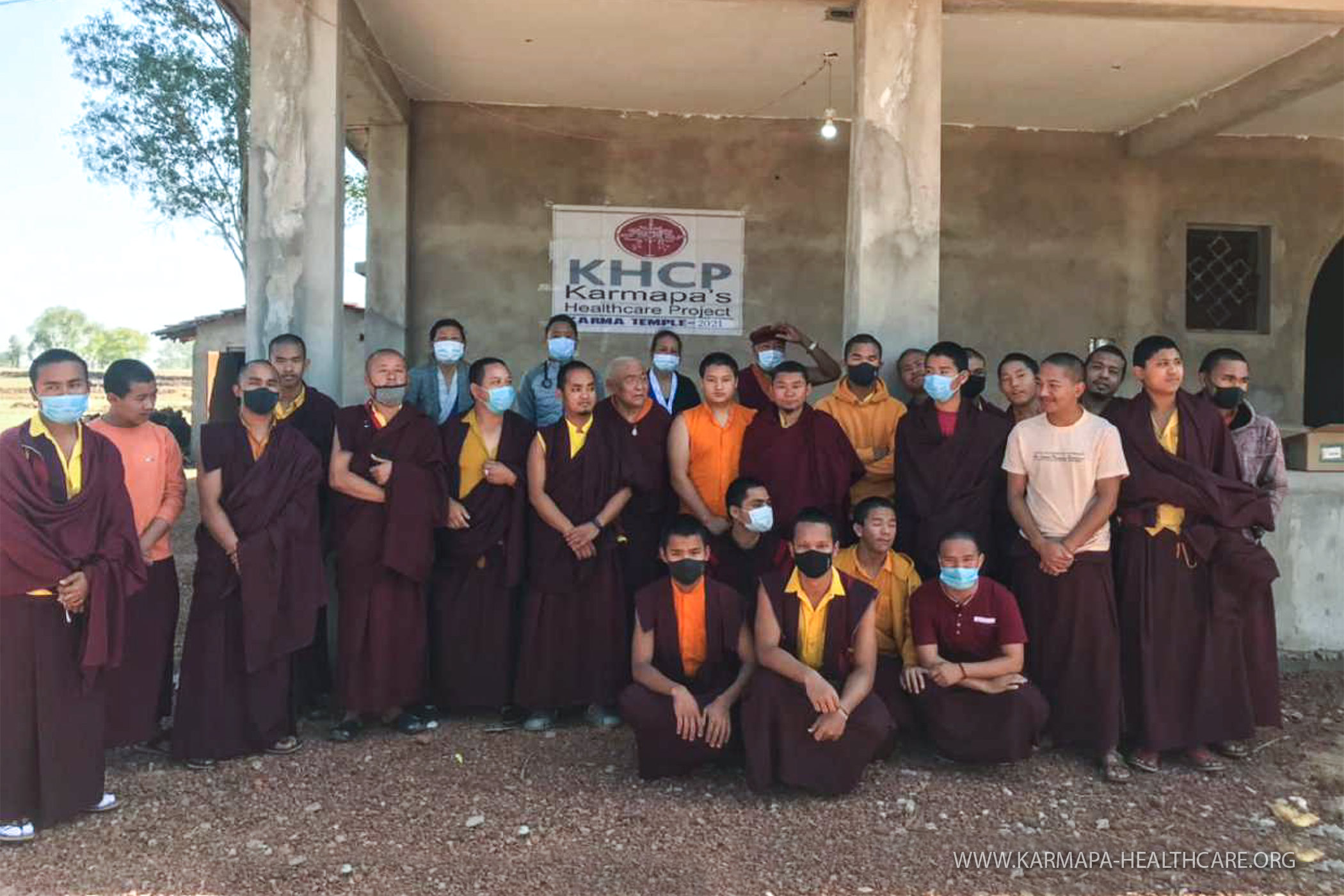 The mayor KHCP campaigns done in 2021:
14th KHCP Medical Camp at Kagyu Mönlam in Rumtek/Sikkim
KHCP Medical Camp in Matepani Pokhara/Nepal
KHCP/White Grain Foundation-COVID-19 support in Kathmandu/Nepal
Support for Ambulance Van of Indian Red Cross Society in Kalimpong / India
Support for Sharminub Buddhist Center Raniban in Kathmandu/Nepal
Several high flow oxygen devices was finally installed and working at Isolation Center Swayambhu and other sites.
Home isolation kits for many remote areas and monasteries of Nepal.
As well some cases of COVID infections could be medicated and some are already discharged from hospital.
COVID-19- Support for Shri Diwakar Vihara Buddhist Institute Kalimpong (Shedra)
KHCP-COVID-19 support at Karmapa´s birthday. We transferred 20.000 €uro for COVID-19-campaigns to 'Aktionsbündnis Katastrophenhilfe' which is an joint project of Caritas International, German Red Cross, Diakonie Katastrophenhilfe and UNICEF Germany.
KHCP-Medical Camp at Dhargye Chokhor Ling Monastery in Bodhgaya/India
Here further supports and annual health-budgets of KHCP in 2021:
Sharminub in Raniban / Kathmandu via Infinite Compassion Deutschland e.V
Nunnery Muktinath / Mustang / Nepal (Dupsing Rinpoche)
Health-Budget for the nunnery in Muktinath / Nepal
Matepani Monastery in Pokhara / Nepal (via Dupsing Rinpoche)
JCM Jangchub Choeling Monastery in Pokhara / Nepal (Dupsing Rinpoche)
Monastery of Nedo Rinpoche in Rumtek / India
Karmae Sanghe in Rumtek/India ( Shamar Rinpoche)
Karma Chokhor Dechen Ling Nunnery in Rumtek/India ( H.H.Gyalwa Karmapa)
Association Khyenkong Tharjay Manju in Bodhgaya/India (Beru Khyentse Rinpoche)
Health-Budget for Bodhgaya clinic room at Karma Tempel of Beru Kyentse Rinpoche
Street Dog Care e.V. in Kathmandu/Nepal – Health Care and food for animals
KIBI Institut in New Delhi / India Health-Budget for KIBI monks / via KIBS Germany e.V.
Cooperation with Association Khyenkong Tharjay Manju in Bodhgaya
Fund for diverse medical campaigns of our cooperation around Bodhgaya / India
KDC Karma Dupgyud Choeling Monastery, Leh/Ladakh/India (Chime Tulku Rinpoche)
B.I.A. Foundation Disabled (Chogyal Rinpoche) - Disabled Project near Boudhanath/Kathmandu
B.I.A. Foundation Serchang Orphanage (Chogyal Rinpoche) in Swayambhu/Kathmandu
White Grain Foundation in Kathmandu/Nepal
Karma Tharjay Chokhorling Bodhgaya / India (Beru Kyentse Rinpoche)
Tilopa Institut of H.H.Gyalwa Karmapa in India
Lhundrup Choling Kagyu Monastery, Bhudhanilkantha, Kathmandu / Nepal
Sangey Choeling Monastery in Kimdol,Swayambhu/Nepal (Lopön Tsechu Rinpoche)
All monasteries, nunneries and schools of Sherab Gyaltsen Rinpoche in Nepal
Throughout the year, we provide you with detailed reports on our work here on our website or connect with www.facebook.com/karmapahealthcareproject
For 2022, we need again a minimum of 100,000 Euros to be able to provide the most basic of medical treatments.
Please be so kind and look if you are able to establish a standing donation order – it will benefit plenty friends in the Himalayas.
Our deepest appreciation and heartfelt thanks to every supporter!
Yours, Pia and Peter, the KHCP team and the board of directors of Karmapa's Healthcare Project e.V.
!Attention NEW!
Donation Account
Account Holder: KHCP e.V.
Bank für Sozialwirtschaft AG
IBAN: DE34 3702 0500 0020 1467 11
Account No. 20146711 | BIC: BFSWDE33XXX

Or donate one-time or monthly directly here
Online via PayPal