Tashi the bear introduce himself:
Dear children everywhere, my name is Tashi.
I am a bear, but I am more than that. I am also a Kagyu. In many many lives before I promised to help all the children.
Now I am here again. I was born in Asia. There are many buddhists there, also the Karmapa and his schools and monks and nuns. Some of them are also children.
There is Pia, and there is Peter and many friends. All they help the Karmapa so that everyone in Asia does not get ill. And Sherab Gyaltsen Rinpoche and his school are now with us, too. I am also helping now – Pia says I am their pro-mo-tion man-ag-er.

If you want to meet me, come to a Kagyu course thingie or look at my Internet blog. If you also want all those people not to get ill, a project Peter calls "Karmapa´s Healthcare Project" – I think that name is very long – go to your mama and papa and tell them about us.
Isn't that just bear-tastic! Awesome! See you...
Ehm, I have seen Karmapa in Hong Kong 2009 and
told him that I am new and really want to help that
project with the long name to help all those monks and nuns.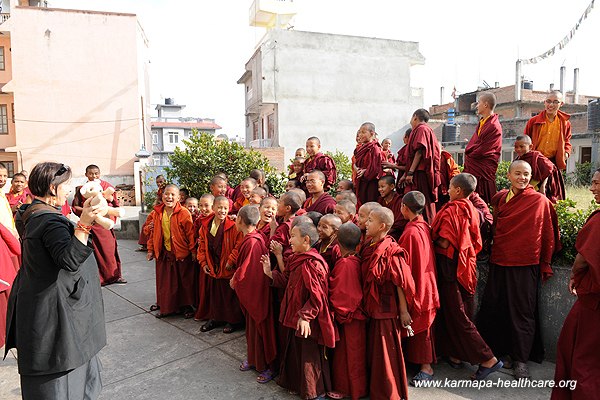 Teachings on hygiene with Tashi the bear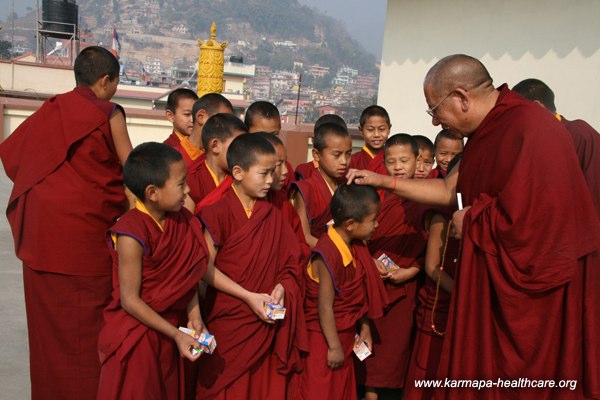 School class of Sherab Gyaltsen Rinpoche